Spring Training starts this week, which means it's time for hope, optimism, and dreams of a World Championship…But I'm a Cincinnati Reds fan, so my dreams are a bit more reserved. Can we just try for a .500 record?
Since 1990, the Reds have experienced just eight winning seasons (out of 27). The 2010-2013 Reds were the high point, making the playoffs three out of four years. But since then their best record has only included 76 wins (2014). Unfortunately, even though it was clear the Reds were no longer a threat to compete, the front office (then led by Walt Jocketty) hung on too long to their veteran assets, getting little in return for Jay Bruce, Todd Frazier, and Aroldis Chapman. So the necessary rebuild was delayed and stunted. Under new GM Dick Williams it's taken on a new urgency, but we're still at least one year—and likely more—from threatening the Cubs or Cardinals or even Brewers for the NL Central Crown.
Last year in particular was frustrating. Everyone knew going in that the won-loss record wouldn't be pretty, but there were high hopes that new players would step up who would be part of the next great Reds team. While that was true in two cases (Luis Castillo and Eugenio Suarez), the year raised more questions than it answered. The pitching staff had an endless parade of hot young prospects, but they produced little to hang a rotation on (the aforementioned Castillo being the happy exception). Add injuries to two projected rotation stalwarts (Anthony DeSclafani and Homer Bailey), and you got an unsatisfying feeling by the end of the year.
But forget last year! Hope springs eternal, even for the Reds. The Reds likely won't compete for the division, or even a wild card, but there are still interesting stories to follow. Let's take a look at a few.
Leadoff Hitter of the Future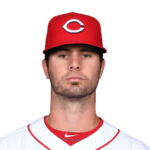 2018 is the year of Jesse Winker. After being highly touted for what seems like forever, we finally will have a chance to see what he does as a full-time starter in the Major Leagues. Or will we? Even though Winker deserves a long look this year, the fact remains that the Reds have four outfielders—Winker, Billy Hamilton, Adam Duvall, and Scott Schebler—competing for three spots. How will manager Bryan Price handle the load? Hamilton should get a lot of playing time based on the fact that he's the only true center fielder in the group. But with three players for two corner spots, it's going to be interesting to see how Price juggles them. In my opinion, he's got to give Winker the bulk of the starts, and when he's starting, he should be the leadoff hitter.
We know what we've got with Duvall and Schebler: average Major Leaguers who'd be fourth or fifth outfielders for a lot of teams. They don't deserve starts over Winker. In fact, I think Dick Williams should save Price the trouble and move one of them before the start of the season. Further, with Winker's history of high on-base percentage, he needs to be at the top of the lineup (and definitely not Hamilton!). In my mind, how Price plays Winker will go a long way towards demonstrating whether Price is the manager of the future for the Reds, or if he's going to be some team's pitching coach next year.
Hall of Famer in Our Midst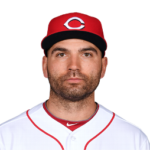 Never take Joey Votto for granted. Seriously, follow that link and feast upon his beautiful stats. In Votto we have possibly the best hitter in Reds history—and that's saying something considering the Reds' long and hallowed past. Every single Votto at-bat is a thing of beauty, and he's must-watch TV when he's at the plate. But he's 34, a time when many players start to decline. Votto's skill set, however, might be more resistant to aging than many players'. So will we see Votto start to slip a little this year, or will he continue to dominate NL pitchers, reaching base in almost half of his plate appearances?
Are the Young Guns Armed and Ready?
Starting pitching will determine if this is another forgotten year, or if we look back and see 2018 as the beginning of a great Reds run of dominance. Currently, we have the following pitchers as possible members of the starting rotation:
Luis Castillo
Anthony DeSclafani
Homer Bailey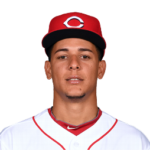 That's nine pitchers for five spots. And of those nine, only Homer Bailey is over the age of 27. That's a good problem to have. But it's hard to project pitching prospects, and the Reds are proof of that. Robert Stephenson was supposed to be an ace, but he's consistently struggled with command. Amir Garrett came on like gangbusters early last year, then fell off a cliff. No team wanted Luis Castillo, and he ended up skipping Triple-A and becoming a stud.
Castillo, DeSclafani, Bailey, and Finnegan appear to be locks to at least start the year in the rotation. Romano seems to have an inside track for the fifth spot, but it could easily be Stephenson or Mahle instead. And with injuries, we could see all nine get starts this year. What every Reds fan is hoping for is that at least two of these young guns show their full potential and become stalwarts of the Reds rotation for years to come.
Dead Man Walking?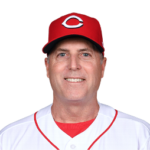 When Bryan Price was first named Reds manager, many statistic-minded fans like myself were hopeful. After old-school Dusty Baker, we thought we now had a Joe Maddon-like manager who would be innovative and progressive in his managing. Instead we got Dusty Lite. Price is not as hidebound as Baker, but he's stubbornly conventional. His insistence on batting Hamilton leadoff shows an unwillingness to see beyond discredited old-school ideas. That being said, he's not terrible either; at this point he hasn't really hurt the team with his managing and he seems to have a good rapport with the players. Essentially, though, he's the definition of average.
Now, when a team is rebuilding, that's not the worst thing to have. There is no reason to fire him (yet), because most great managers probably wouldn't want to manage the Reds right now. But this year the team has to show an improvement in the win/loss column, and Price has to show some more open-mindedness if he wants to keep his job. I think the Rorschach Test for many fans will be how much he plays Winker and where he puts him in the order. If he only plays him sparingly and puts him below the 5-hole in the lineup, we'll know he's not the manager of the future.
The Arrival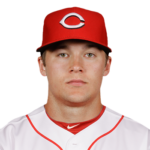 One of the most exciting stories of Spring Training this year will be a player who almost definitely won't make the Opening Day Roster. I'm speaking of Nick Senzel, of course. The #2 overall pick in the 2016 draft, Senzel has done nothing to diminish the high exceptions surrounding him. He's only reached Double-A so far, but it's likely he'll see the Major Leagues his year. Once he arrives, will he continue to hit and reach base as he has at every other level? What position will he play?
Senzel is another high on-base percentage guy, and so the thought of Winker, Senzel, and Votto batting 1-2-3 in the Reds lineup should make any Reds fan salivate. Here's hoping it will happen sooner rather than later.
The Prediction
So what's my prediction for the Reds this season? I think they'll finish 75-87. That's a seven-game improvement from last year, which will mostly be due to improved starting pitching. My hope is that they'll be a legitimate threat for the Wild Card in 2019, but many questions have to be answered this year in order for that to be a reality.