Hi, I'm Eric Sammons – a Catholic, a husband, a father (of seven), and an author. I believe in life, liberty, and the pursuit of holiness.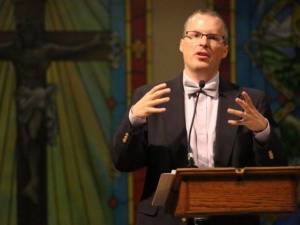 Life. Every human life has an inherent dignity, given to it by God, not government. It's imperative that a society protect its most vulnerable citizens. This means I'm anti-abortion and anti-war.
Liberty. I'm a fierce defender of liberty. I subscribe to the Non-Aggression Principle: no one, including government, should initiate force against another person or a person's property.
Pursuit of Holiness. The purpose of life is to become a saint. A convert to Catholicism, I have been studying Catholic teaching for more than 25 years and hold a Master's degree in Theology from Franciscan University of Steubenville.
I'm the host of Swimming Upstream, a podcast on these topics. I'm also the co-host (with my son) of Growing Up Baseball, a podcast about baseball.
I've written several books on Catholic subjects, a High School textbook on world religions, and a book on the digital currency Bitcoin. I'm also the Editor of a Sacramental Preparation textbook on the Sacrament of Confirmation. I have contributed to The Federalist, OnePeterFive, Catholic Answers, Crisis Magazine, CatholicVote, Fangraphs, Cincinnati Republic, and Bitcoin.com, and I write long-form pieces about the world of cryptocurrencies at Medium.
You can hear the story of my conversion to Catholicism in the video below. Note that I do open my eyes at least once during the interview.