Hi, I'm Eric Sammons – a Catholic, a husband, a father (of seven), and an author. I believe in life, liberty, and the pursuit of holiness.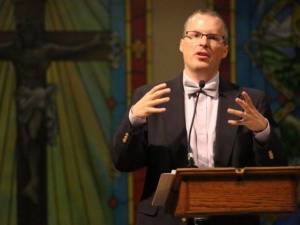 Life. Every human life has an inherent dignity, given to it by God, not government. It's imperative that a society protect its most vulnerable citizens. This means I'm anti-abortion and anti-war.
Liberty. I'm a fierce defender of liberty. I subscribe to the Non-Aggression Principle: no one, including government, should initiate force against another person or a person's property.
Pursuit of Holiness. The purpose of life is to become a saint. A convert to Catholicism, I have been studying Catholic teaching for more than 25 years and hold a Master's degree in Theology from Franciscan University of Steubenville.
I've written several books, including a book on Catholic evangelization and a book on the digital currency Bitcoin. I'm also the Editor of a Sacramental Preparation textbook on the Sacrament of Confirmation. I have contributed articles to numerous websites, including OnePeterFive, Catholic Answers, Crisis Magazine, The Federalist, and CatholicVote.
You can hear the story of my conversion to Catholicism in the video below. Note that I do open my eyes at least once during the interview.