The 2016 MLB Baseball season is upon us, and I thought I'd list my favorite players to watch. Note that these are not necessarily the best (although they have to be pretty good in order to be fun to watch), but instead those players who I would consider "Must See MLB." I'll admit that my list is weighted towards those teams I've followed the most (7 of the 11 players either currently play for, or have played for, the Reds or Rays), but this is a pretty subjective list, so deal with it, okay?
The Young Guns
Baseball fans need to realize they are living in an amazing time: two of the best young players in history are currently playing, and we get the joy of watching them every day.
Mike Trout – The best all-around player, bar none. What is particularly amazing about Trout is that he has improved each year since his historically great rookie campaign, and will likely continue to improve. He should be a four-time MVP winner. And as a defense-loving fan, how can you not love watching a guy who can do this: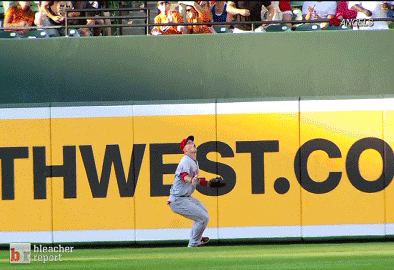 Bryce Harper – At this point, one must concede that Trout is the better player, but man, is Harper more fun to watch. That violent yet controlled swing is a thing of horrible beauty: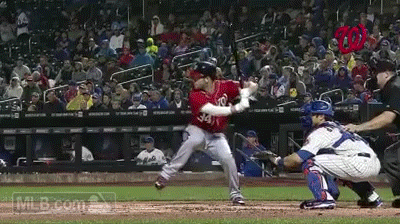 The Scientist
Joey Votto – Joey Votto is a weird cat. He can't play defense to save his life, but he is the most intelligent hitter on the planet. He has a few very strong talents, and he uses his brain to maximize those talents to an extreme. He is the model I use when teaching my own son how to hit. Every at-bat is like a surgeon plying his craft. And did I mention he's weird?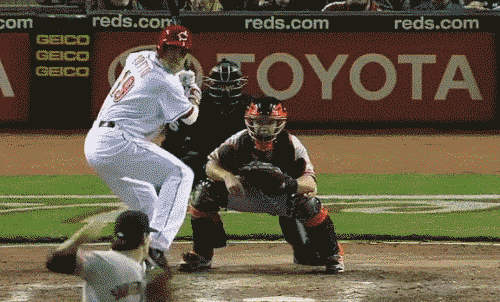 The Defenders
I love me some defense. I could watch defensive highlights all day long and never get bored. I know that offense sells tickets, but I'll take a great defensive play over a boring dinger any day. Here are my favorite defenders to watch:
Kevin Kiermaier – Kevin Kiermaier is fast, he is aggressive, and is the best CF in the major leagues. I doubt he ever has played a game that didn't include him getting his uniform dirty, and that includes when he plays on the Trop's artificial turf. Last year he put up one of the historic defensive years while patrolling the outfield for the Rays. Even when he misplays a ball he is awesome: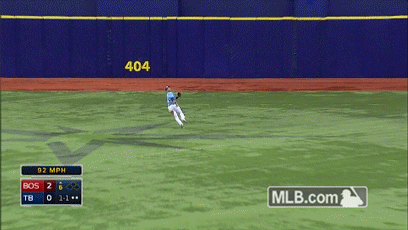 Billy Hamilton – Did I say Kiermaier was fast? He runs like Miguel Cabrera compared to Billy Hamilton, the fastest baseball player on the planet. Unfortunately, Billy can't buy his way onto base anymore, so we don't see much of his baserunning skills, but he still has game-changing speed while out in center field. I was watching this play live on Opening Day yesterday, and even knowing how much ground Billy covers I still didn't think he had a chance: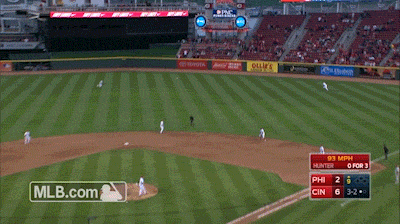 Andrelton Simmons – If God decided to build a perfect defensive shortstop, He would have to name him Andrelton Simmons. Simmons has a cannon for an arm, great instincts, as well as the creativity to be an incredible shortstop. He was the hardest to find a gif for, because it was impossible to narrow it down to just one. Here is just one example: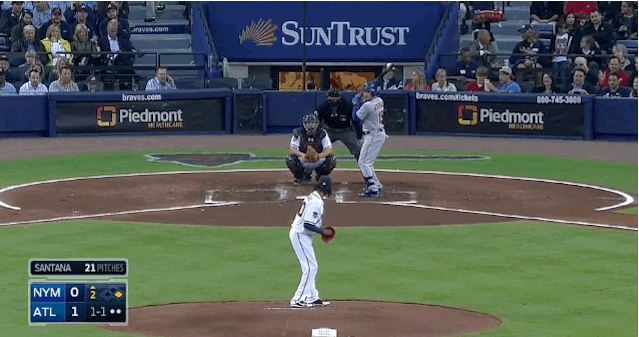 The All-Everything
Ben Zobrist – I've written about Zobrist before, but I'll repeat that I love his "all-everything" talent. He can play just about any position on the field (and play it well), and even bats from both sides just to show there is nothing on the field he can't do. He is not the human highlight reel like some of the other guys on this list, but he is enjoyable to watch over and over again. Sometimes, of course, being able to do everything can be confusing, like when he forgets what helmet to wear to the plate: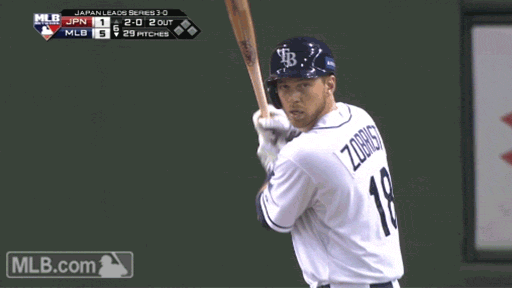 The Arms
Chris Archer – I just saw Archer pitch on Opening Day, and admittedly, he wasn't sharp – he needed 34 pitches just to get through the 1st inning. But he still somehow ended up striking out 12 in 5 innings, and when he is on, he is ON. Plus, the hair.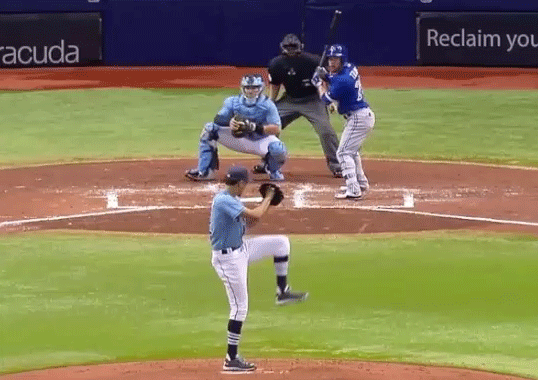 Jose Fernandez – How can anyone not love this guy? His backstory is incredible, and so is his stuff. I'm hoping he can stay healthy and dominate this year (and I'm not just saying that because he's on my fantasy team). And you gotta love a guy who asks an opposing player why he hit one of his pitches so far: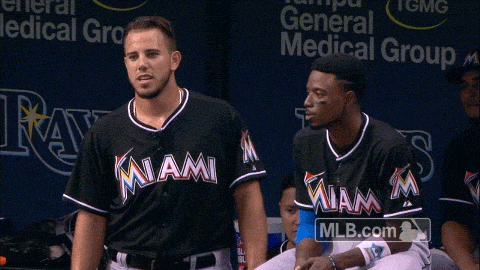 David Price – Price has a weird delivery, in which he almost bounces back his arm after releasing the ball. But I love watching him pitch, even though I'd encourage young pitchers not to do the same.
Johnny Cueto – One of the saddest days for me last year was when Johnny Beisbol was traded by my Cincinnati Reds. This guy is my all-time favorite pitcher to watch. He has great stuff, but then he combines it with an almost endless number of different wind-ups, just to keep the batters off-balance. He's got the Luis Tiant (turn back to batter), the Quick-Pitch (no wind-up), and my favorite, the Shimmy-Shake: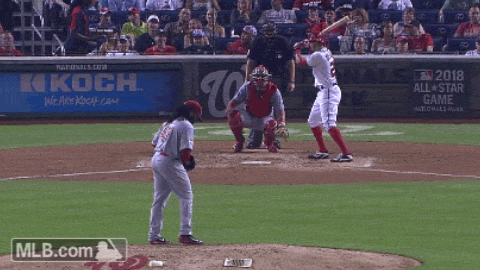 Hopefully this year some more players will be added to my list of "Must See MLB" players. They make the game fun to watch, and that is why we watch. In that spirit, I'll leave the last word to Bryce Harper: