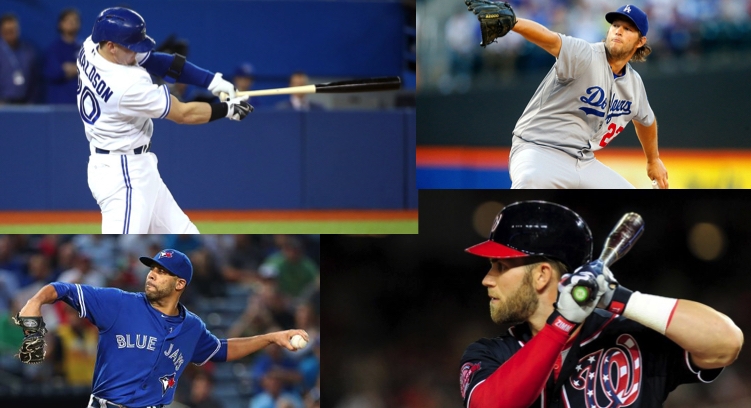 The MLB baseball season is winding down, and even though the Commissioner seems to add new teams each year to the playoffs, there aren't that many dramatic races going on, other than Astros-Rangers and the AL wild card (although even the slight possibility that the Cardinals collapse and lose their division fills me with hope).
To fill the void, let me announce the Baseball "Sammies": my picks for the top awards for this season. I base my picks heavily on advanced (i.e. sabermetric) stats, so things like batting average and RBIs and "clutchiness" don't really matter to me, as they don't represent well how much a player really helps his team. Most of my awards match the major awards given at the end of the season, but I've got a few additional ones as well. (Note: all stats are as of 9/17/15).
NL Most Valuable Player: Bryce Harper, Nationals
Harper has been a beast this year and is fulfilling the potential that put him on the cover of Sports Illustrated at the age of 16. It's too bad the Nationals have been such a disappointment, but that shouldn't diminish the awesomeness that is Harper. He might even make the Harper vs. Trout debate a real thing.
Honorable Mention: Joey Votto, Clayton Kershaw
AL Most Valuable Player: Josh Donaldson, Blue Jays
I just assumed that I would give this to Mike Trout every year for the next 10-12 years, but Donaldson has really been impressive this year. The two have been close to each other in value (7.8 WAR for Donaldson vs. 7.4 for Trout), but Donaldson being on a better team (which usually isn't a big factor for me) does nudge Trout out.
Honorable Mention: Mike Trout
NL Cy Young: Clayton Kershaw, Dodgers
This is the all-Dodger division, as it comes down to Kershaw or Zack Greinke. I really thought it would be Greinke, but when I looked at the numbers a little more closely, I think Kershaw edges him out. He has a better K/9, better FIP, and better xFIP. And his WAR is 7.4 vs. 5.6 for Greinke.
Honorable Mention: Zack Greinke, Jake Arrieta.
AL Cy Young: David Price, Tigers/Blue Jays
Price has been a beast since being traded to the Blue Jay, and I'm really glad he's on my fantasy team. He leads the league in ERA and has come up huge for the Blue Jays in their playoff chase.
Honorable Mention: Chris Sale, Chris Archer
NL Rookie of the Year: Kris Bryant, Cubs
I considered Matt Duffy of the Giants, who has made San Francisco quickly forget the Panda, but the combination of Bryant's raw power, higher expectations, and generally better advanced stats (wOBA, wRC+) make Bryant the better choice.
Honorable Mention: Matt Duffy, Jung-ho Kang
AL Rookie of the Year: Carlos Correa, Astros
This was closer than I initially thought, as Francisco Lindor has had a great season for the Indians. But with a crazy-high BABIP (.352) and lower wOBA than Correa, I decided to go for the young Astro. I also question the accuracy of the defensive stats for Correa, which don't rate him very highly at this point.
Honorable Mention: Francisco Lindor
NL Best Defensive Player: Billy Hamilton, Reds
There are players who have more defensive runs saved, but Hamilton has played about 20 fewer games than them. Hamilton has only been a centerfielder for the past couple years, converting from shortstop, and in that time has come to dominate the position. He not only covers tons of ground, but he has great routes and can even make the spectacular plays. And he's a Red.
Honorable Mention: Andrelton Simmons, Adeiny Hechavarria
AL Best Defensive Player: Kevin Kiermaier, Rays
Another stud centerfielder, Kiermaier was originally called up a few years ago at the end of the season just to play defense (classic Maddon move). He leads the Majors in defensive runs saved, and makes any play that is anywhere close to him.
Honorable Mention: Kevin Pillar, Alcides Escobar
And now, for the most coveted Sammies of them all: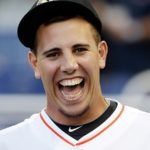 NL Most Style Points Award: Jose Fernandez, Marlins
Fernandez barely played this year, but he wins it if he pitches one inning. With his back-story (Cuban defector, saved his mother's life, etc.) and his talent, he has this locked up for years to come. Let's just call it the "Jose Fernandez Most Style Points Award".
Honorable Mention: Giancarlo Stanton, Joc Pederson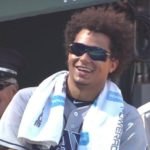 AL Most Style Points Award: Chris Archer, Rays
The battle for the Style Points award was more closely fought in the AL, with Chris Archer edging out Eric Hosmer for the top prize. Really, it just came down to the hair.
Honorable Mention: Eric Hosmer
Congratulations to all the winners – look for your prizes in the mail!