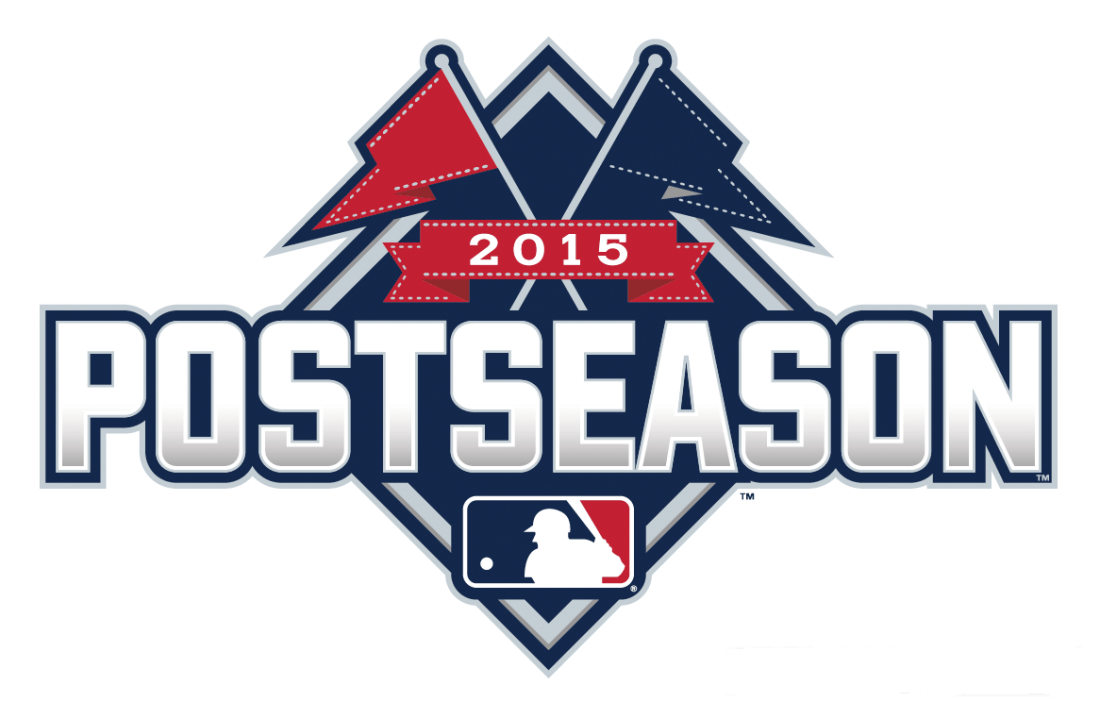 UPDATED 10/16/2015
The introduction of the Wild Card "play-in" game, which is admittedly very exciting to watch, is a disaster for making predictions. When you have two closely-matched teams (which two Wild Card teams always are) playing in one game, the chances of winning are almost exactly 50%. But of course once you make it past that point, you are now in best-of-5 and best-of-7 series, which at least gives the better team a slightly better chance of moving on. So usually the accuracy of one's predictions for the postseason come down to getting lucky in the Wild Card round.
Further, it is amazing that this year we will have a team with at least 97 wins not even making it out of the Wild Card round. The Cubs had the third-best record in baseball (!) and all they could manage was being the road team for the Wild Card game. Unbelievable, but perhaps fitting that it is the Cubs with such bad luck.
Lastly (before my predictions), I picked four teams to root for this year – the Reds, the Rays, the Nationals, and the Angels. The Reds, Rays, and Nationals because I live or have lived in or near all those cities, and the Angels because of Mike Trout. Going into the season the Nats and Angels seemed locks for the postseason, and the Rays at least an outside shot (no chance for the Reds, of course). Needless to say, those teams have officially sent me notices to stop rooting for them. If I have to pick a team this postseason I'll root for, I guess the Royals (because of Cueto and Zobrist), maybe the Cubs (I like their young guys and Maddon), and the Dodgers (don't really know why).
Now, the moment you've all been waiting for…
AL Wild Card Game: Astros vs. Yankees – ASTROS
A crap shoot picking this one, but I like Keuchel pitching, and I can't stand the Yankees, which makes me undervalue them.
UPDATE 10/16/2015 – Nailed this one.
NL Wild Card Game: Cubs vs. Pirates – CUBS
The 2nd and 3rd-best teams in baseball get to see who goes home early. I like the Cubs because of Arrieta (although Cole is an underrated stud), but again, it's just about 50/50 here.
UPDATE 10/16/2015 – It seemed like the Cubs couldn't lose with Arrieta, and they couldn't.
ALDS – Astros vs. Royals – ROYALS
I'm more torn that perhaps I should be here. The Royals are a superior team, but I kinda like the Astros. But in the end I think the addition of Cueto will put the Royals over the top (and of course the magic of Johnny Gomes).
UPDATE 10/16/2015 – Completely nailed it, even calling Cueto as the difference-maker.
ALDS – Rangers vs. Blue Jays – BLUE JAYS
I don't believe in the Rangers and think this series could be a sweep. The Jays offense is too powerful, and with the addition of David Price, I think they'll go deep this postseason.
UPDATE 10/16/2015 – Well, I was right about the outcome and about the Jays beating the Rangers in three straight. It just took them a few games to get started.
NLDS – Cubs vs. Cardinals – CUBS
Have I mentioned that I hate the Cardinals? I'm convinced that they made a deal with the devil years ago so that, no matter who is on their team, they will win, win, win. Some call it the "Cardinal Way," I call it "Satan's Team." My fear is a Cardinals-Yankees WS, which would make me hole up in my room and cry. Regarding this prediction, I really, really, really want the Cardinals to lose – is that a good reason to predict it?
UPDATE 10/16/2015 – I know I mentioned my hatred of the Cardinals as my motivating factor, but I did think they were an underwhelming 100-win team. They were really banged up, with weak pitching. Bye, Bye, Birdies.
NLDS – Mets vs. Dodgers – DODGERS
I like the Dodgers: Kershaw, Greinke, did I mention Kershaw? I don't buy the stupid meme about Clayton coming up small in the postseason. I think he is going to be a beast this year and carry them to the WS championship.
UPDATE 10/16/2015 – This one hurt, and in hindsight I don't know why I underestimated the Mets. I loved Kershaw and Greinke, but really, deGrom and Thor are the really power pitching duo now. I might have gotten only this one wrong, but it hurts since I picked them to win it all.
ALCS – Blue Jays vs. Royals – BLUE JAYS
Tough pick here, but I think the Blue Jays will bomb their way to the WS.
NLCS – Cubs vs. Dodgers – DODGERS
I like both these teams, but the Dodgers a little more.
World Series – Dodgers vs. Blue Jays – DODGERS
I decided to go with an upset here, as I actually think the Blue Jays are a superior team. Since it is all guesswork at this point, I'll just guess that Vin Scully will witness at least one more WS victory for the home team.
I'll try to update this post at the end of the month to see how (badly) I did.