Hi, I'm Eric Sammons – a Catholic, a husband, a father (of seven), and an author. I write about what I love, which includes: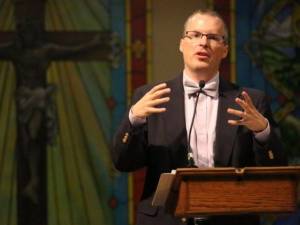 Catholicism. A convert to Catholicism, I have been studying Catholic teaching for more than 25 years and hold a Master's degree in Theology from Franciscan University of Steubenville.
Technology. My undergraduate degree was in Systems Analysis from Miami University and I have spent over 15 years in the business world as a software engineer. I'm particularly interested in cryptocurrencies such as Bitcoin and Dash.
Culture. Okay, the parallelism breaks down a little bit here. I can't say I "love" our culture (especially as it relates to politics) these days, but, yeah, I'm interested. If only for the opportunity to poke fun at the stuffed shirts.
Baseball. Just as Theology is the Mother of the Sciences, everyone knows that Baseball is the Mother of All Sports.
I've written several books on Catholic subjects, a High School textbook on world religions, and a book on the digital currency Bitcoin. I'm also the Editor of a Sacramental Preparation textbook on the Sacrament of Confirmation. I have contributed to The Federalist, OnePeterFive, Catholic Answers, Crisis Magazine, CatholicVote, and Bitcoin.com, and I write long-form pieces about the world of cryptocurrencies at Medium.
You can hear the story of my conversion to Catholicism in the video below. Note that I do open my eyes at least once during the interview.
In this video, I talk about the cryptocurrency Dash and its governance structure: